Welcome, beach lovers and adventure seekers! We've got some exciting news to share with you. Little Bondi, the gorgeous and remote slice of paradise located in the Northern Territory, has just been named one of the Top Ten Australia's Beaches of 2023 by Tourism Australia! If you're looking for a peaceful, secluded, and unforgettable beach getaway, then Little Bondi is the place for you.
Located far away from the hustle and bustle of city life, Little Bondi (also known as Baringura / Baninjura) is the quieter and more intimate cousin of Bondi Beach, which is one of the most famous beaches in the world. However, unlike Bondi Beach, Little Bondi is not your average crowded beach. With only a few campsites available, it's the perfect spot for those who love to explore and get off the beaten path.
As you set foot on the delicious white sand and dip your toes into the green-blue waters, you'll feel like you're in a tropical paradise. However, don't let the idyllic surroundings fool you; Little Bondi is not for the faint-hearted. The beach is located in the Northern Territory, which is known for its tropical climate and exotic wildlife, including lurking crocs and other aquatic hazards. So, make sure to stay safe and follow the recommended precautions while enjoying your stay.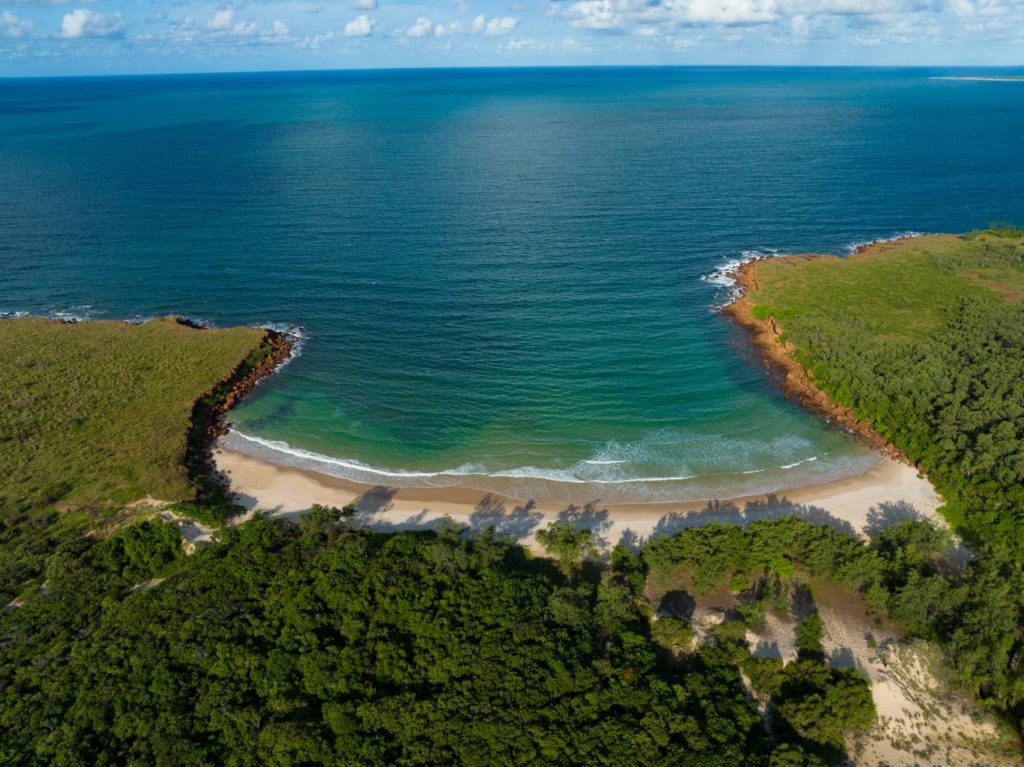 As the saying goes, good things come to those who wait, and that's certainly true when it comes to Little Bondi. Unfortunately, the beach is so remote that it would take you over 24 hours to drive there from the Latitude College campus in Darwin! Although it may take some time to get there, the unique and unforgettable experience of visiting this hidden gem is sure to make it all worthwhile. After all, what's a little road trip when there's a gorgeous beach waiting for you at the end?
However, if you're looking for a more accessible beach experience that's closer to the Latitude campus, we've got you covered. In 2022, Dundee Beach in Darwin made the Tourism Australia Top Ten Australia's Beaches list. This beautiful and picturesque beach is located just 90 minutes away from the Latitude campus and is named after the 1986 film, Crocodile Dundee.
Dundee Beach is the perfect destination for those who want to experience the Northern Territory's natural beauty without straying too far from civilization. The beach offers a range of activities, including fishing, hiking, and exploring the nearby national parks. If you're looking to stay the night, Dundee Beach Holiday Park offers contemporary self-contained accommodation, as well as spacious ensuite, powered, and unpowered sites for camping, caravans, and motorhomes, pool and is set amongst tropical gardens. Everything you need for an incredible stay! So, pack your bags, grab your sunscreen, and get ready for an unforgettable beach adventure!
At Latitude College, we understand the importance of getting out and exploring the world around us. That's why we encourage our students to take advantage of the many beautiful and exciting destinations that are available to us. Whether you're looking for a peaceful retreat or an adventurous excursion, the Northern Territory has something for everyone.
So, what are you waiting for? Book your trip to Little Bondi or Dundee Beach today and experience the natural beauty of the Northern Territory for yourself. We can't wait to hear all about your unforgettable beach adventure!